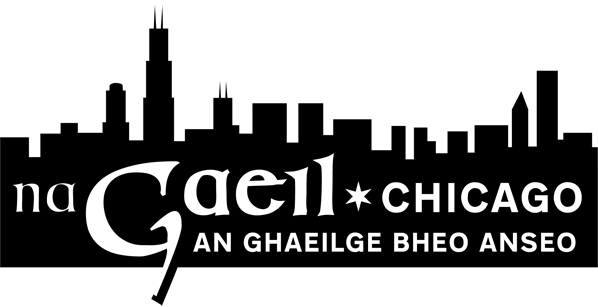 Want to learn the Irish language?
Or pick up where you left off? Na Gaeil Chicago teaches and supports Irish (or call it Gaelic, Gaeilge, Gaelainn, Gaolainn, Gaeilg) in Chicagoland. Get in touch with us at info@nagaeil.org.
Classes
Na Gaeil Chicago's Irish language classes return for the Spring 2021 term in late January and run through early May. Come connect with Irish culture, heritage, and new friends through the first language of Ireland in an informal and fun setting.
Registration for several levels of Wednesday evening, Thursday evening, and Saturday morning classes is now open!. Find your class on our Registration page.
Beginner and Beginner 2 classes are open to Fall 2020 students.
Intermediate classes and up are open to all Chicagoland students. (Check out the detailed class descriptions on their individual registration pages to determine which class is right for you, based on your current level of Irish.)
We're looking forward to seeing you!

If you have no prior experience with the Irish language, or otherwise need a Beginner-level class, the Fall 2021 term is your starting point. (The Spring term picks up where the Fall term leaves off.) You can email us at info@nagaeil.org with any questions and to be notified of Fall 2021 classes.

Although classes are usually held at The Irish American Heritage Center, all Spring 2021 classes will be online, through Zoom. All Chicagoland students are welcome. You will need a desktop or laptop computer, a video camera, and a microphone. We're looking forward to being back with our friends at the Center, our home for over 35 years, as soon as possible. The Center has been hugely affected by restrictions on large gatherings, and could really use your membership and support.

Tuition for the Fall term is $130 for new Na Gaeil Chicago students and $105 for our returning students. Tuition includes books and materials.

Email us at info@nagaeil.org for more information, to join our mailing list for future classes and events, or for any other questions.

Join our Facebook page: https://www.facebook.com/nagaeilchicago