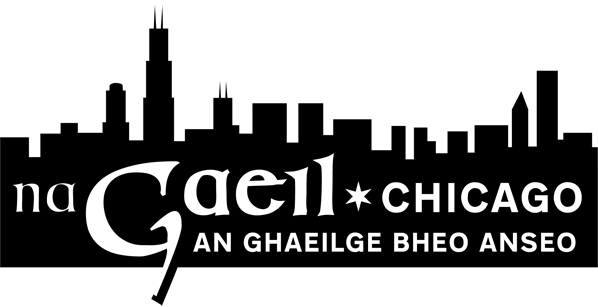 Want to learn the Irish language?
Or pick up where you left off? Na Gaeil Chicago teaches and supports Irish (or call it Gaelic, Gaeilge, Gaelainn, Gaolainn, Gaeilg) in Chicagoland. Get in touch with us at info@nagaeil.org.
Classes
Registration for Fall 2021 Na Gaeil Chicago 15-week Irish language classes for students living in Chicagoland is now open! The 2021 Fall term runs from mid-September through mid-January 2022. Come connect with Irish culture, heritage, and new friends through the first language of Ireland in an informal and fun setting.
We are happy to announce that the majority of the classes will, after a year and a half of online-only classes, again be in-person at the The Irish American Heritage Center. (We are, of course, monitoring COVID-19 guidance on indoor meetings.)
This Fall we have more offerings that we've ever had: nine classes on four different levels! Six of those classes will be in-person at the Heritage Center, two will be online-only, and one will be a "hybrid" class (in-person and online simultaneously). There are options for Saturday morning, Wednesday evening, and Thursday evening.
Check out the detailed class descriptions on their registration pages to find the class that's right for you. Feel free to write us at info@nagaeil.org if you are uncertain about which class to choose. We're looking forward to seeing you!
If you have no prior experience with the Irish language, or otherwise need a Beginner-level class, the Fall 2021 term is your starting point. (The Spring term picks up where the Fall term leaves off.) You can email us at info@nagaeil.org with any questions and to be notified of Fall 2021 classes.
Tuition for the Fall term is $130 for new Na Gaeil Chicago students and $105 for our returning students. Tuition includes books and materials.
Join our mailing list to stay informed about classes and other Irish language events. You can email us at info@nagaeil.org for more information about us, our classes, or the Irish language in general.

Join our Facebook page: https://www.facebook.com/nagaeilchicago